Description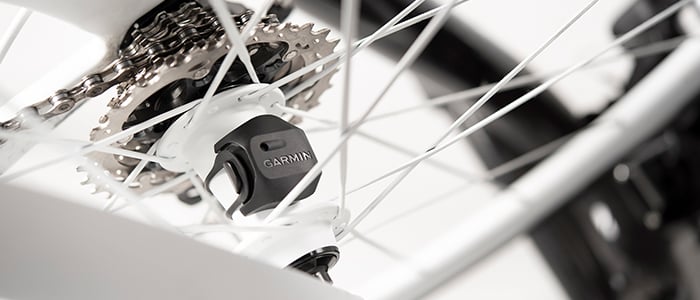 Monitor the speed of your pedaling with this easy-to-install wireless sensor. With no magnets or other exposed parts for alignment, this sensor is easy to install, store and move from one bike to another.
This second generation Speed Sensor attaches to the hub of one of the two wheels. You can configure the size of your wheels in our online community Garmin Connect™ or calibrate it yourself with an Edge® cycle computer or a compatible Garmin device. Once configured, you will always receive accurate speed and distance data. The sensor stores the data of your outputs even without edge or compatible device; once connected the data will be transferred between the two devices.
ANT+ ® connectivity and Bluetooth® Low Energy technology will allow you to sync data across Garmin Connect and other workout apps, compatible devices, and fitness equipment for more accurate data on your cycling, indoor, and outdoor activities. The odometer function detects the distance to help you plan maintenance work on the bike.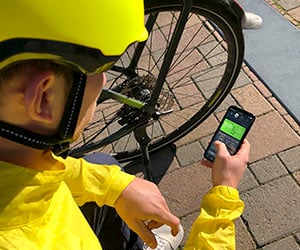 The Bluetooth trademark and logo are registered trademarks of Bluetooth SIG, Inc. and their use by Garmin is licensed.

BOXED PACKAGING OR ENVELOPE


Spedizioni e Resi
Resi e Rimborsi
Conformemente alle disposizioni legali in vigore, l'acquirente ha diritto di recedere dall'acquisto senza alcuna penalità e senza specificarne il motivo, entro il termine di 14 giorni ai sensi dell'art. 57 del D.lgs 206/2005 decorrenti dalla data di ricezione dei prodotti.
Per maggiori informazioni fare riferimento alle pagine Resi e Rimborsi e Termini e condizioni d'uso
Spedizioni
I pacchi sono generalmente inviati entro 2 giorni dal ricevimento del pagamento e vengono spediti tramite corriere con tracciatura. Qualsiasi tipo di spedizione scegliate, vi forniremo un link per tracciare il vostro pacco online.
Per maggiori informazioni fare riferimento alle pagine Spedizioni e Pagamento e Termini e condizioni d'uso
Pagamenti Sicuri
Il pagamento può essere effettuato tramite: Paypal, Bonifico bancario e Carta di credito. Tutte le transazioni vengono effettuate rispettando rigidi standard di sicurezza.
Tutti i dati acquisiti o transitati attraverso i nostri sistemi sono trattati secondo le regole del "REGOLAMENTO (UE) 2016/679 DEL PARLAMENTO EUROPEO E DEL CONSIGLIO" del 27 aprile 2016 relativo alla protezione delle persone fisiche con riguardo al trattamento dei dati personali, nonché alla libera circolazione di tali dati e che abroga la direttiva 95/46/CE (regolamento generale sulla protezione dei dati).